School got out for the summer yesterday, and the boys look forward to a summer of relaxing and doing whatever. But I do want to encourage them to work on their writing skills -- with all this era's wonderful computer and Internet advantages, the good old-fashioned "sit with a pencil and write" seems to have been lost, at least with my kids. So this summer, with journals in hand, we are going to write a little each day. Stories, poems, books, thoughts -- whatever inspirations lead us to. Remarkably, the boys haven't groaned too much about it!
And after school let out yesterday, we welcomed new visitors to our yard. We've seen many a toad in the yard from time to time, but yesterday the male toads found the new pond. Three of them set up at strategic spots on the pond rocks and croaked. And croaked. And croaked. We saw two of them -- the third was clever enough to croak AND stay out of sight. We didn't witness any mass migration of female toads to them, but those males sure tried to entice them. I really like how all three toads croaked at different pitches. I fell asleep with the window open, just listening to them...
For our morning journals, we decided to all write garden poems. I'll admit we were all sort of groggy when we attempted this...
Call of the Summer Wild,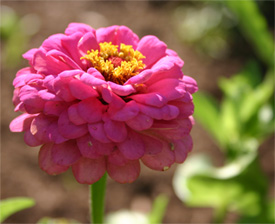 by Meredith
Sun rising
Birds chirping
Good morning, summer, all
Kids running
Playing hard
Will their mom stay sane
Dogs wrestling
In the yard
Splashing in the dog pond
Butterflies
Flutter by
Flowers growing tall
Grasshoppers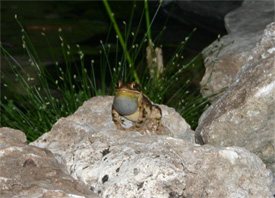 Get off of
My zinnias RIGHT NOW
Sun is hot
Ack, more weeds
Compost, cactus happy
In the night
Bull-toads croak
Seeking their true love
And eating mosquitoes. YAY.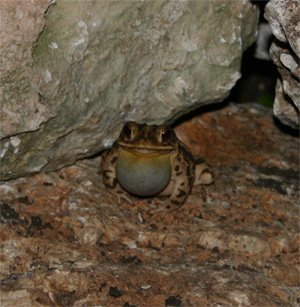 Garden poem

, by Nolan
Birds, birds flap their wings
Birds can do almost anything
Our pond is great
We found toads that might mate
We cannot wait
Butterflies, butterflies everywhere
But we care
My backyard, by Logan
Birds flitter past,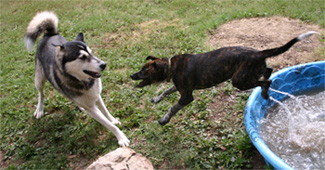 While my dogs run fast.
The garden's filled with plants,
The perfect home for the
common ant.
When the dogs meet a skunk
it really
Sprays them well,
And when the dogs do come in
I really hate the smell.
My backyard's a habitat
For animals thin and small
But watch out when it's dark,
For the dogs might startle you
With a sudden bark.